1000 14th Ave E
Nathan Eckstein House
Built: 1914
Where "Seattle's Most Useful Citizen" Lived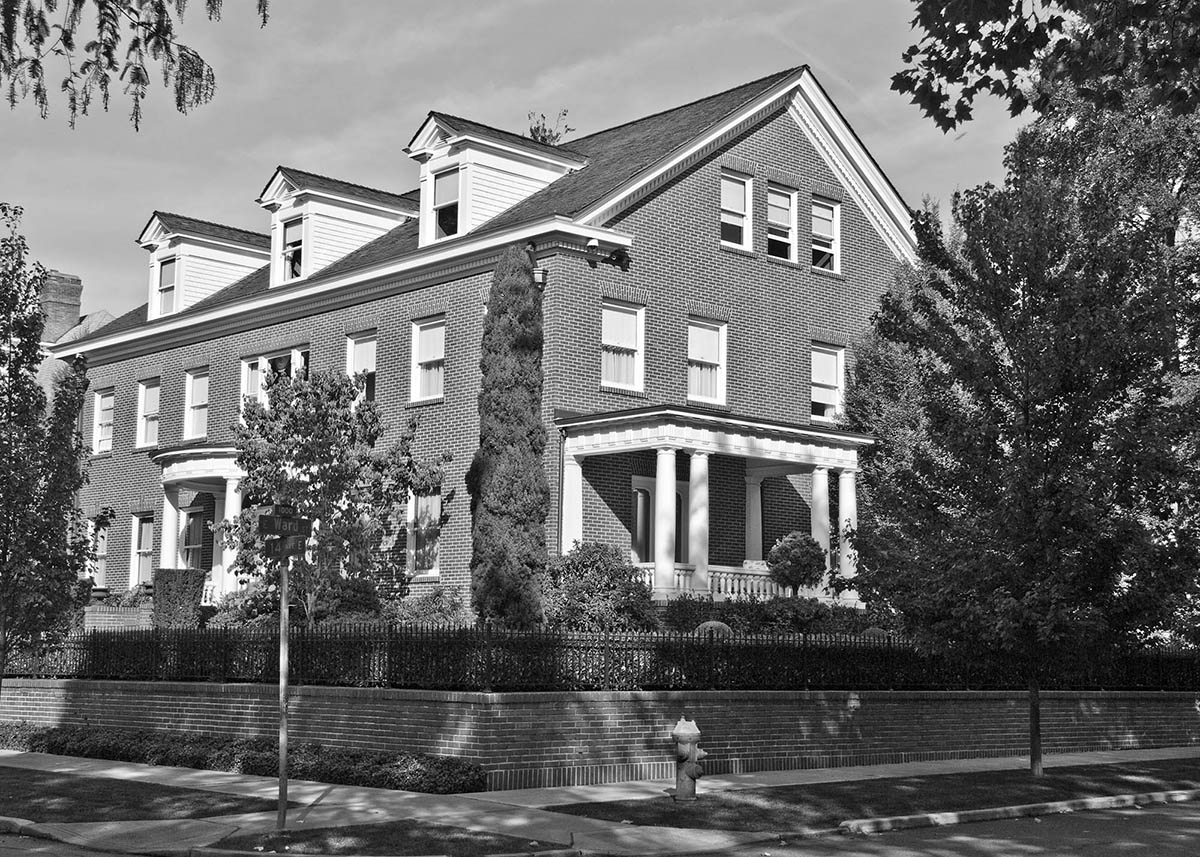 Style: Georgian Revival
Architect: Louis Mendel
Builder: Pearson Construction Co.
Description
This 2 ½ story Georgian Revival was the last residence constructed in the district during its historic period. On June 18, 1914, permit #133568 granted Pearson Construction permission to build this 60'x66'4" house, designed by Bebb and Mendel, for an estimated $17,000. The house is one of the most formal in the district, built of red brick, having a circular portico in front and a rectangular portico on the south, both supported by Doric columns and having railings supported by balusters. The house has three dormers facing 14th Avenue East, and an elaborate garden in the back. Dentils under the eaves contribute to the formal colonial feel of this house. A 2007 Seattle Department of Neighborhoods survey judged this house to have a high degree of integrity (windows, original cladding and plan intact), and that it appeared to meet the requirements for the National Register individually, in addition to being part of a potential historic district.
History
Nathan Eckstein, the first owner of this house, was vice-president and then president of Schwabacher Brothers & Company, one of Seattle's most prominent businesses. Schwabacher Brothers, a wholesale grocery company, was at the time Seattle's oldest business. Under his leadership, the company weathered World War I, II, and the Great Depression. Its wholesale business served Washington, Alaska, and many Pacific Rim countries.
Eckstein also participated in numerous civic and charitable activities, earning the title of "Seattle's Most Useful Citizen" from the Seattle Post-Intelligencer and a group of community service organizations. Eckstein was elected president of the Seattle School Board for three years, and served on the School Board for seven years. In recognition of his contributions to Seattle's schools, Eckstein Middle School was named for him. Eckstein also served as trustee of the White Cross, Goodwill Industries, and the Seattle Symphony Orchestra. He was president of the Community Fund and the Washington State Council for Social Work. He served on the commission to revise the Seattle City Charter in 1925. He was a founder of the Temple de Hirsch and a leader and patron there. He was a strong advocate for increasing the job base in Seattle, improving the city's municipal needs (infrastructure, parks, health, education, and culture), and expanding trade. He argued for the need of a first class airport in King County, and worked to establish it.
Accessory Structure: Detached garage
Built: Unknown, but likely in period
The brick detached garage does not appear in the 1917 Sanborn map, but based on the materials and design, it appears true to the district's period of significance. A pre-1940 property assessment card refers to a brick veneer garage of approximately the same size, so this accessory structure is likely in period.