709 14th Ave E
Anson Burwell House
Built: 1904
Seattle's House of Hardware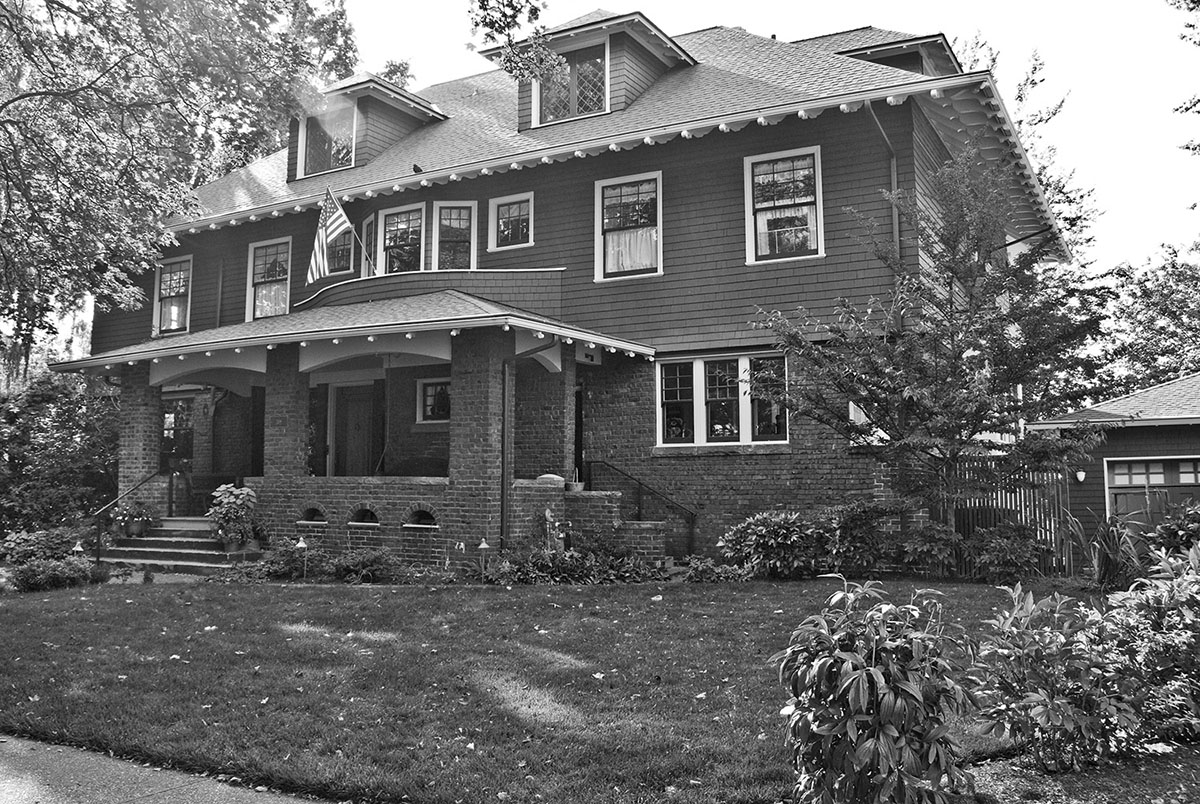 Style: Craftsman
Architect: James H. Schack
Builder: R.G. Van Stone
Description
Architect James H. Schack designed this Craftsman house for Anson S. Burwell. On April 16, 1904, permit #26816 granted permission for R.G. Van Stone to construct a 62'x48' house for $12,000. The first story of this 2 ½ story house is clad in clinker bricks, and the second story is clad in wood shingles. An asymmetrically positioned front portico has its entrance shifted to the left. The piers supporting the portico, and the parapet (which has small semi-circular arches on the right) are also constructed of clinker brick. Above the portico is a curved balcony, clad with shingles. The hipped roof has two dormers facing the street, and elaborately carved modillions below the eaves. This house was one of 80 buildings in Capitol Hill cited as being significant to the city in Nyberg and Steinbreuck's 1979 inventory. A recent Seattle Department of Neighborhood historical site inventory cites this house individually as meeting the criteria for listing in the National Register of Historic Places, in addition to being located in a potential historic district. This house appears largely unchanged from its 1904 construction date.
History
Anson S. Burwell, for whom this house was built, served as vice-president and then president of the Seattle Hardware Company, a pioneer mercantile firm that became prosperous outfitting prospectors in the Alaskan Gold Rush and serving the growing Pacific Northwest.
In 1884 (or 1885 by some accounts), Anson S. Burwell left Pennsylvania and arrived in Seattle with two brothers: A.P. Burwell and E.B. Burwell. All three brothers joined and invested in Ballard & Sox, an early Seattle hardware partnership. Later, in 1885, the partnership formally incorporated as the Seattle Hardware Company. Anson S. Burwell was one of the founders, and all three Burwell brothers served as officers.
In 1905, the company became a wholesale-only operation, and it moved into a huge office and warehouse space in the Pioneer Square district. That building still exists, but is owned by Starbucks now. Seattle Hardware Company became a million dollar corporation in 1912. Anson S. Burwell served as vice-president and manager of the company until 1924, when he became president. By 1929, the company had 300 employees, and was shipping to Washington, Oregon, Idaho, Alaska, Hawaii, and Asia. Anson S. Burwell was prominent in Seattle civic affairs, and served as president of the YMCA and a long-time member of its executive board. He died in 1935, having dedicated 50 years towards the development of one of Seattle's greatest companies.
Accessory Structure: Detached Garage
This garage, which matches the style of the residence, appears to have been built outside of the district's period of significance. An earlier photograph shows a carport in its location, and the Sanborn 1917 map shows a garage positioned further from the street.