720 14th Ave E
Elbridge A. Stuart House
Built: 1904
Home to the Father of Washington State's Dairy Industry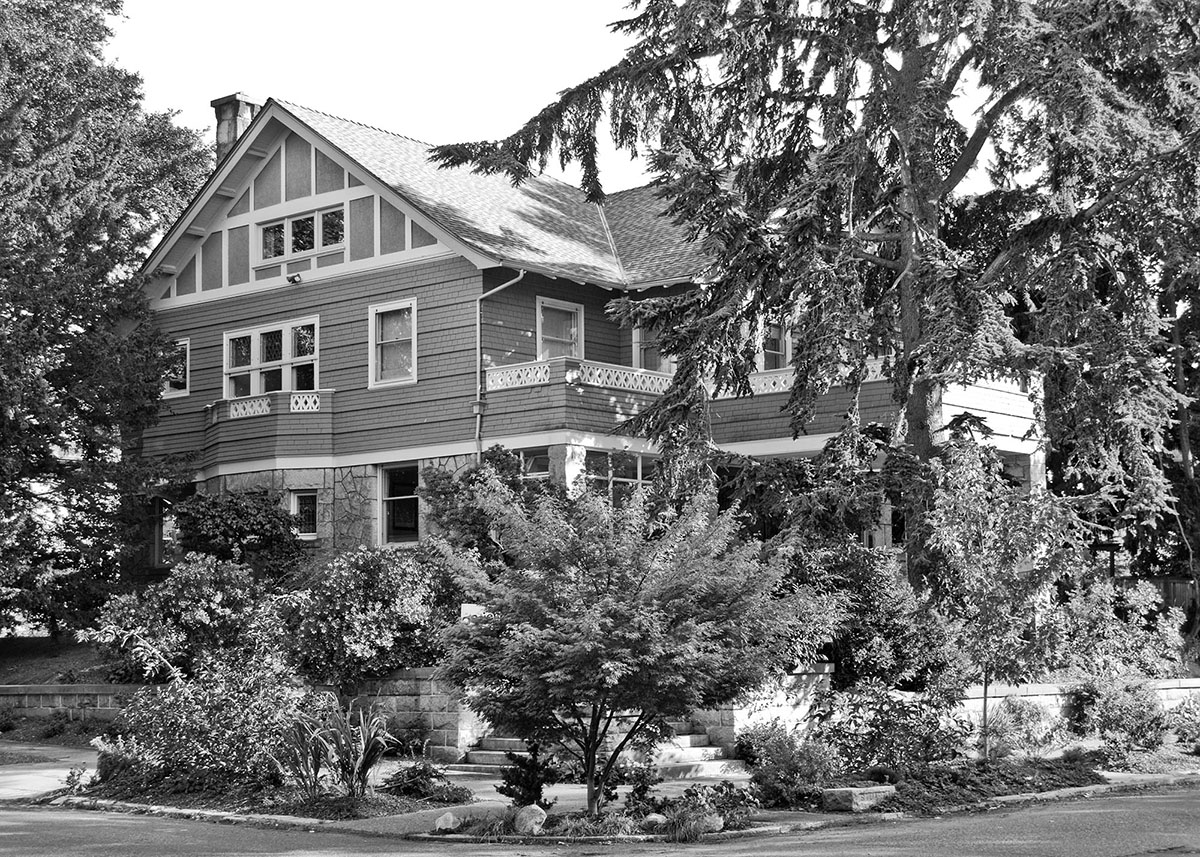 Style: Tudor Revival / Craftsman
Architect: Bebb & Mendel
Builder: Woeck & Behrens
Description
This house, which is a Tudor Revival with Craftsman aspects, was designed by Bebb & Mendel for Elbridge A. Stuart. The original permit, #28126, dated June 20, 1904, allowed builder Woeck & Behrens to construct a 64'x41' 2 ½ story house for $9,500. The first floor of the house is clad in irregularly shaped stone. Above it, the second floor exterior is clad in wood shingles. The top half-floor is timbered underneath the gables, one facing north and one facing west. The west side of the house, which faces 14th Avenue E., has a prominent port-cochere, with stone piers supporting a substantial shingled balcony. This balcony, like the house's others, has a decorative wood parapet with a repeating diamond pattern. The north side has a bay window extending from the house, with another balcony above. The gables each have barge boards, and three windows with a diamond leaded glass pattern below. A granite block inscribed with "Stuart" the name of the original owner, still lies at the street corner. Nyberg and Steinbreuck's 1975 inventory of Capitol Hill buildings cited this house as significant to the community. A 1979 Seattle Inventory by Mark L. Peckham of the Department of Urban Conservation gave this house "A" grades both for individual merit and contribution to the district. The house appears very much as it did back in the district's historic period.
History
Elbridge A. Stuart, the original owner of this house, almost singlehandedly created one of Washington State's major early commercial successes – its dairy industry. The Carnation Milk Products Company, which he founded near Seattle, became a household name, shipped its products worldwide, and after his death, became a multi-billion dollar company.
Elbridge Stuart, who earlier had some success in the grocery business in El Paso and Los Angeles, moved to Washington State in 1899. With a partner, he bought a bankrupt evaporated milk plant in Kent, Washington for $5,000. In 1901, after a number of business challenges, Stuart bought out his partner, and became owner and president of the Pacific Coast Condensed Milk Company, which he renamed the Carnation Milk Products Company in 1915. The town of Tolt, Washington changed its name to "Carnation" in honor of Elbridge Stuart's farm and company.
The Klondike Gold Rush created demand for non-perishable foods, helping to boost the fortunes of Stuart's company. Also, Elbridge Stuart helped supply local farmers with better lines of milk cows – both by importing them and breeding them at his Carnation Farm – this making his own company more successful. By the time Stuart died in 1944, Carnation had manufacturing operations in 22 states and 7 countries. In 1984, Carnation Milk Products was sold to Nestle for three billion dollars.
Like many of Seattle's early entrepreneurs, Stuart became involved in multiple business ventures. At one point he was president of the Metropolitan Building Company, which developed a large part of Seattle's downtown area. One of the buildings that they constructed was the Stuart Building, a high-rise that was demolished in the 1970s to make room for Rainier Square and Tower. Elbridge Stuart was a vice-president of the First National Bank of Seattle, and a director of the Metropolitan National Bank of Seattle. He also served as vice-president of the Pacific Steamship Company.