805 14th Ave E
Andrew Weber House
Built: 1902
The Fishing Net Manufacturer's Home and Home to a Future Rockefeller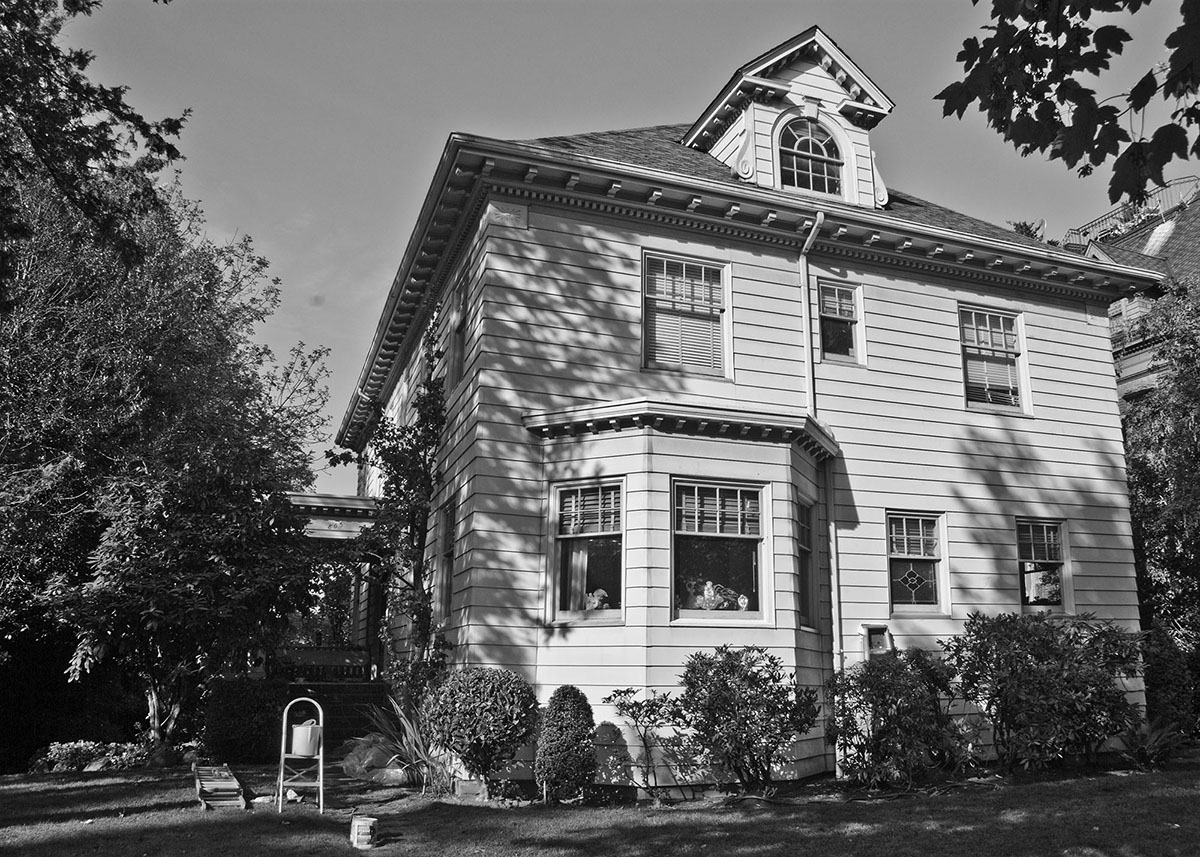 Style: Colonial Revival
Architect: Donnellan & Barton
Builder: Waddingham & Arveson
Description
This 2 ½ story Colonial Revival house was designed by J.J. Donnellan and Frances M. Barton for Andrew Weber. The original building permit, #16163, dated September 11, 1902, calls for Waddingham & Arveson to build a 31'4"x50' house for an estimated cost of $7,000. The house is oriented laterally to the street, facing south. Stairs lead to a small rectangular portico on the south side. On the street-facing (east) side, there is a large, three panel bay window and five other windows of varying sizes. An ornate dormer faces the street, with a pediment, scrollwork on the sides, and a window topped by a fanlight with a keystone. The eaves of the roof, dormer, bay window, and portico cornice are embellished by modillions or dentils – sometimes both. The house appears to have been re-sided, but it retains most of its original detailing and character.
History
Andrew Weber, the original owner of this house, was a business partner of Edward P. Ederer who lived up the street at 1007 14th Avenue East. Both men brought their families to Seattle from Chicago in 1901, and here the men founded the Seattle Net and Twine Manufacturing Company. Andrew Weber served as president, and Edward P. Ederer was vice-president. In many cases, the early residents of Millionaire's Row gained their affluence through Washington State's natural resources: logging, land sales, mining – and in Weber's case the fishing industry. According to Prosser's, A History of The Puget Sound Country: Its Resources Its Commerce and Its People, "The development of the fishing industry brings with it the manufacture of fish-netting in all its various lines, which is now being successfully carried on in Seattle by Andrew Weber and his associates, constituting the Seattle Net and Twine Manufacturing Company. To supply the demands of the fishing industry on the Northwest coast, from four to five million pounds of netting made from cotton thread are required every year, and the demand is constantly increasing."
In 1902, Weber had this house built on Millionaire's Row, and in 1903 his business partner Edward P. Ederer built his home on Millionaire's Row as well. In 1905, Weber started the Andrew Weber Company, an import and export firm, while continuing as president of Seattle Net and Twine. Weber died around 1908-1909, but his widow Barbara Louise Weber (alternately Louise Barbara) lived in the house into the 1920s.
By 1925, William Edris, a very prominent businessman, had bought this house. Edris was president of the Seattle Brass Company, and vice-president of Skinner & Eddy Corporation. He was also the son-in-law of Seattle capitalist David E. Skinner, president and a founder of Skinner & Eddy, who lived directly to the south at 725 14th Ave. E. Edris had married David and Jeannette Skinner's daughter, Frances, but she had died in 1922. Edris was involved in numerous businesses. He operated the Olympic Hotel, Seattle's most prominent luxury hotel He bought numerous local properties, including The Liberty Theater (Seattle), The Venetian Theater (Seattle), The Roxy Theater (Ballard & Enumclaw), The Grand Theater (Great Falls, Montana), The Broadway Market (Seattle), and the operation of Von's Cafe (Seattle). He also owned 10% of the Puget Sound Bridge and Dredging Company (of which Samuel H. Hedges of 702 14th Ave. E. was president). Through Edris' role as vice-president of Skinner & Eddy, he was also deeply involved in the Alaska salmon packing industry.
The Edris family gained popular notoriety in 1956 when William's daughter, Jeanette, married Winthrop Rockefeller, an heir to John D. Rockefeller's oil millions. She became Rockefeller's second wife (after the infamous Bobo Rockefeller), and he was her fourth husband (her previous husbands were a pro football player, a lawyer, and a stockbroker), and hence she acquired the name: Jeanette Edris Barrager Barley McDonnell Rockefeller. She was well-heeled prior to this wedding, having inherited more than a million dollars from her grandmother, Jeannette Skinner.
Accessory Structure: Detached garage
Built: 1917-1937
This garage, fronting the other side of the property on 13th Avenue East, is not visible from Millionaire's Row. Although it was not shown in drawn in the 1917 Sanborn map, it was photographed by the state in 1937.