811 14th Ave E
Moore Mansion
Built: 1903
Where Lived Capitol Hill's Original Developer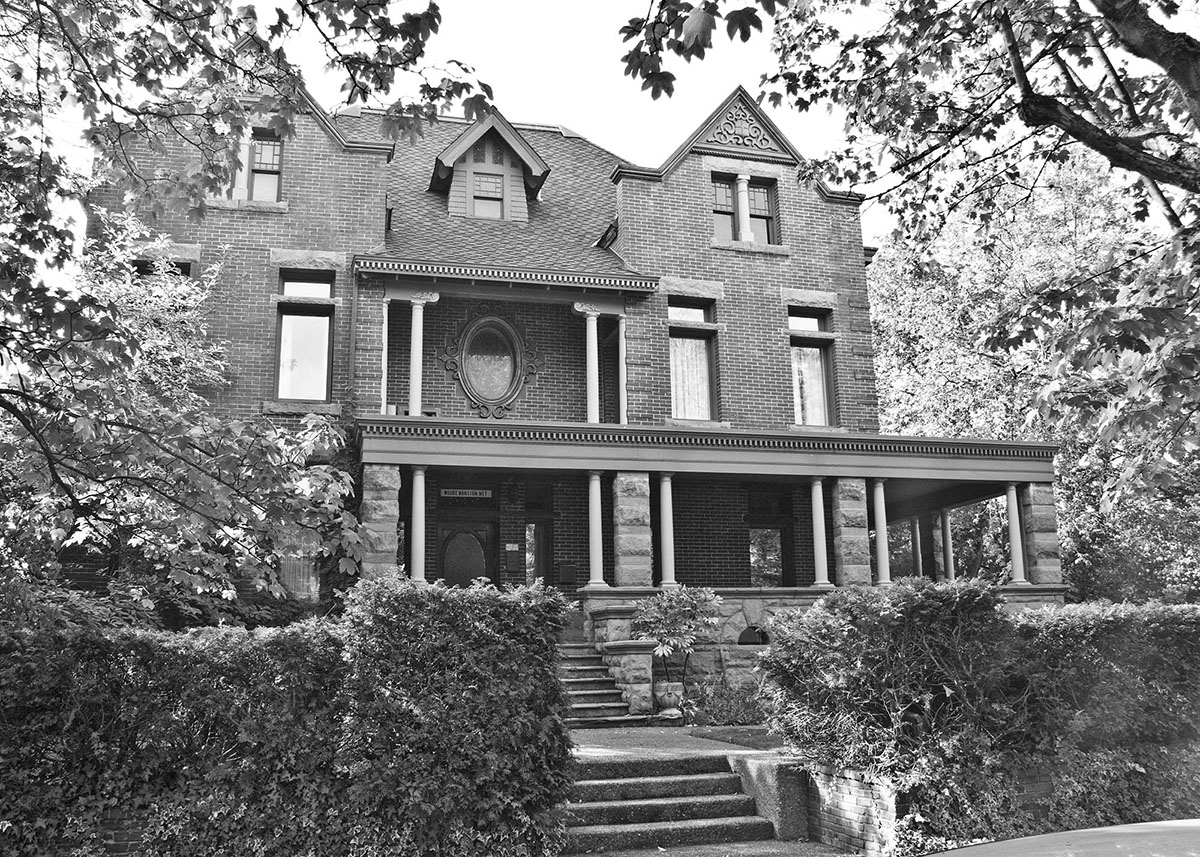 Style: Renaissance Revival
Architect: William D. Kimball
Builder: James A. Moore
Description
James A. Moore was both owner and builder of this house, designed by William D. Kimball. The original building permit, dated April 2, 1903, called for a 45'x60' house to be constructed at a cost of $18,000. This house is 2 ½ stories, constructed of brick (it was originally planned to be stone, and then brick veneer, but was amended to solid brick). It has been described as French Renaissance Revival (Francois Ier), with classical and gothic elements forming an eclectic architectural mix. Steps lead up to a portico, which wraps from the mid-front around to the north side of the house. The portico is supported by stone piers surrounded by Tuscan columns. Above the entrance at the second floor level, two pairs of additional Tuscan columns rise from the top of the portico, bordering a balcony. A large lunette appears between these two columns. Two triangle-peaked brick facades flank the left and right of the house's front, each having carved pediments and an additional column flanked by two windows. Nyberg and Steinbreuck's 1975 survey judges this house to be one of eighty in Capitol Hill of importance to the City of Seattle, and it has been awarded Seattle City Landmark status. Though a parapet for the second floor balcony has been removed, the house appears very much as it did when it was built.
History
James A. Moore, the father of Capitol Hill, and perhaps Seattle's best known developer, built this house for himself on Capitol Hill's showplace street. Moore arrived in Seattle in 1886, and soon started investing in real estate. In 1987, he formed the Moore Investment Company, which developed Latona, Brooklyn, University Heights, and other residential areas in Seattle. In 1900 the Moore Investment Company purchased a substantial portion of Capitol Hill for $225,000, and developed the neighborhood's infrastructure (sidewalks, paved streets, sewers) for over $100,000. This and Moore's other development projects were largely funded by G. Henry Whitcomb and other moneyed individuals from the East Coast. Moore put the individual lots on the market in 1901.
Although best known for developing residential areas, Moore also developed major buildings downtown – the Whitcomb Building, the Estabrook Building, the Lumber Exchange, the Curtis Building, the Lincoln Hotel Building, the Franklin Building, the Amherst Building, the Moore Theater, and others. Some of these were built together with G. Henry Whitcomb, whose son David became another resident of the street, and later took over real estate operations for his father. Moore initially acquired development privileges for the University of Washington's Metropolitan Tract downtown, but sold these rights to the Metropolitan Building Company.
Moore made a considerable sum through his real estate dealings in Seattle – by some accounts $15 million – but he lost it all by investing in the Western Steel company at Irondale, near Port Townsend, and by developing a town to support the mill. While initially successful, providing steel for Seattle buildings and ships, he was undercut by larger steel companies (he blamed U.S. Steel), and eventually went out of business. Moore then took the $1,000 he had left by selling some personal items, and traveled to Florida, where in 1915 he created "Moore Haven" – the first town platted in the Everglades area. The town did well, and he had several prominent investors, but a 1926 hurricane resulted in the town flooding, drowning 200 people. Moore left Florida. In 1929 Moore died, essentially broke, living at the Palace Hotel in San Francisco.
Joseph Bordeaux bought the Moore Mansion between 1913 and 1914. He was the brother of Thomas Bordeaux who lived across the street at 806 14th Avenue East, in another house designed by William D. Kimball. Joseph Bordeaux was a partner with his brother in the Bordeaux Brothers Logging Company and then the Mason County Logging Company. Together they founded the town of Bordeaux. Thomas Bordeaux was president of the Mason County Logging Company, and Joseph was secretary-treasurer. They remained business partners for the remainder of their lives. Joseph also was a large stockholder of several Seattle and Olympia-based banks.
Accessory Structure: Detached garage
Built: 1917 or earlier
This garage, fronting the other side of the property on 13th Avenue East, is not visible from Millionaire's Row. It was shown in the 1917 Sanborn map, and photographed by the state in 1937.