908 14th Ave E
Chester White Carriage House
Built: 1905
The House That Was Previously a Stable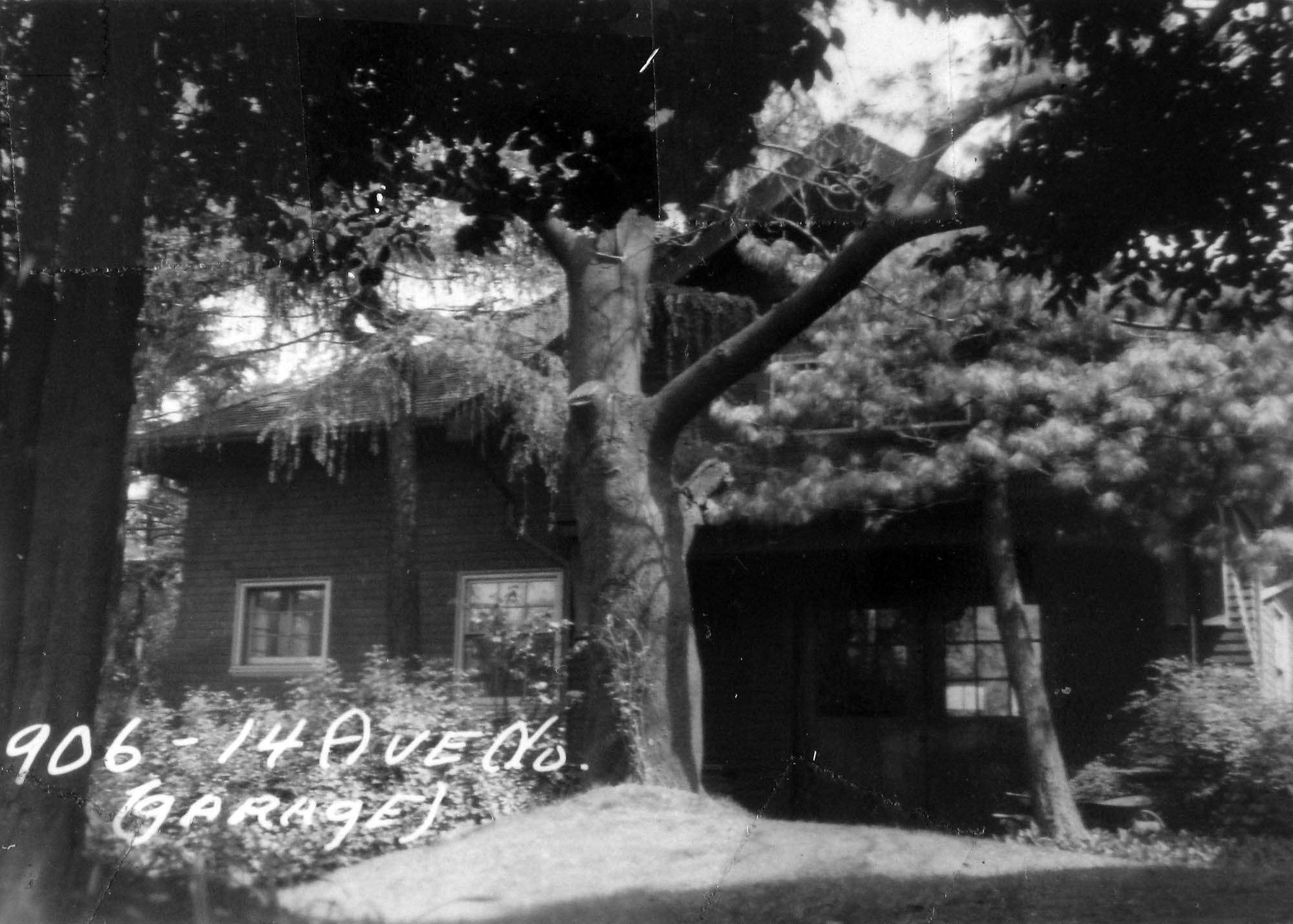 Style: Craftsman
Architect: Bebb & Mendel
Builder: George W. Wilder
Description
Permits #36552 (August 9, 1905) and #36577 (August 10, 1905) allowed builder George W. Wilder to construct a 35'x42' 1 ½ story frame stable, designed by Bebb and Mendel, for C. F. White. This stable was built originally as an ancillary structure to the Chester F. White House (Side ID #12), also designed by Bebb and Mendel a year earlier. The stable was to be built for an approximate cost of $3,000 (30% the cost of the accompanying house). One of the permits states, "Permit not to cover manure pit shown on plans to be partly in alley." The building is of a very large size for a stable, and even in its earliest photos appeared more like a house, designed as a Tudor/Craftsman revival, with a partially half-timbered upper section, multiple fine windows, a dormer, a chimney, and a complex roof line. It was almost certainly partially residential from its very beginning, either as servant or guest quarters. The building was not designed to match the Chester F. White House exactly, in many ways it seems more reminiscent of the other Tudor/Craftsman revivals on the street. The building was addressed 906 ½ in a plat map from the 1920s, suggesting that it was already residential during the mid-part of the district's period of significance. Folke Nyberg's and Victor Steinbreuck's 1975 survey identifies this house as significant to the community.
History
Chester F. White, who originally built this carriage house, was a prominent lumberman, real estate man, and banker. He arrived in Washington State in 1885, where he organized Gray's Harbor Commercial Company, which eventually became one of the region's largest lumber mills. With J. F. Douglas, he formed the Metropolitan Building Company, which took over James A. Moore's lease of 10 prime acres of University of Washington owned land in downtown Seattle, and oversaw the development of it. As did several other residents of the street, White served as president of the company. His office was at the top floor of the White Building, a large business structure named in his honor, with expansive views of the city he was developing. He successfully organized regional lumber mill owners to fight a substantial rate increase for exporting lumber out of the area by rail. This made him extremely popular in Seattle, and many tried to persuade him to run for U.S. Senator. He served as president of the Seattle Commercial Club, which he helped to organize. Chester F. White helped establish the Metropolitan Bank and served as its first vice-president. He also served on the board of trustees of the Alaska-Yukon-Pacific Exhibition, with neighbor James A. Moore, and Samuel H. Hedges, a future resident of the street.
The second owner of this carriage house, Cyrus F. Clapp, moved into the accompanying house around 1911-1912. He had previously lived in Port Townshend and Dungeness. In Dungeness he ran a general store and developed a business supplying multiple logging camps. He purchased a schooner to take farm goods to Victoria and Seattle, and to the sawmills at Port Ludlow, Port Blakely, and Port Gamble. In Port Townsend, he organized the Merchants Bank, and was president until he sold it. Later he came to Seattle, and made a great deal of money by buying land cheaply and selling it quickly for a considerable profit. He purchased a 3rd Avenue lot, erected the Ferguson hotel, and profited greatly from the transaction. He bought and sold many downtown properties, including the Orpheum Theater, the Downs Building, and the Corner Market. Between 1905 and 1908, he made an estimated $1 million profit from real estate in Seattle. Clapp was also active in politics. In 1898 he had been elected to represent Jefferson county in the State House. Subsequently he was elected to the State Senate for two terms.