Millionaire's Row's Influence on History
Influenced by history and influenced history
Nearly every resident had a significant impact on our local culture or history, and in some cases our national history. Sometimes they made this impact by working individually, and sometimes by working together.
The Metropolitan Building Company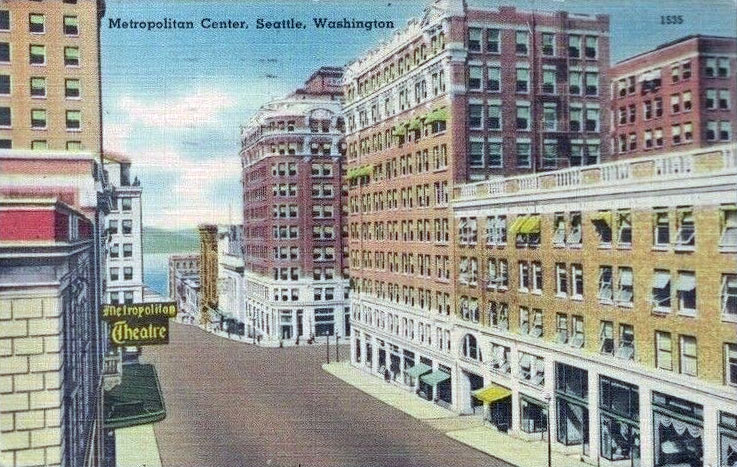 The Metropolitan Building Company owned a lease from the University of Washington to develop ten acres of prime downtown Seattle real estate, referred to as The Metropolitan Tract, which included the former location of their campus. This company was a major force of downtown development, producing the Cobb Building, the Skinner Building, the White Building, the Stuart Building (Cobb, Skinner, White, and Stuart were all residents of Millionaire's Row), the Fifth Avenue Theatre, the Metropolitan Theater, the Olympic Hotel, and more. Their building projects were on a huge scale. In 1916, Bagley wrote that the Metropolitan Building Company may very well have built more frontage in the city of Seattle than any other entity.
This company was formed by Chester F. White (one of the residents of the street), together with J. F. Douglas. White served as the initial president of the company. However, other residents of Millionaire's Row: Charles Cobb, Elbridge A. Stuart, and David E. Skinner also served as later presidents. Thomas Bordeaux, another resident, was a stockholder. The Company bought the rights to develop the University Tract from James A. Moore (yet, another resident) who had acquired the original lease. That makes six residents that were involved in some way with the Metropolitan Building Company.
It is exceedingly likely that some neighborly discussions resulted in Chester F. White acquiring James A. Moore's lease. It is clear that some neighborhood canvassing and friendships resulted in the capital acquisition ($2.5 Million) necessary to form the company. Certainly neighbors convinced one another to become actively involved in running the company. Otherwise, Elbridge A. Stuart, the father of Seattle's dairy industry, whose hobby was breeding better milk cows, would never have become one of its presidents. The neighborhood's contributions to the formation and operation of The Metropolitan Building Company profoundly affected how Seattle looks today.
Regional Lumber Tycoons Organize for Change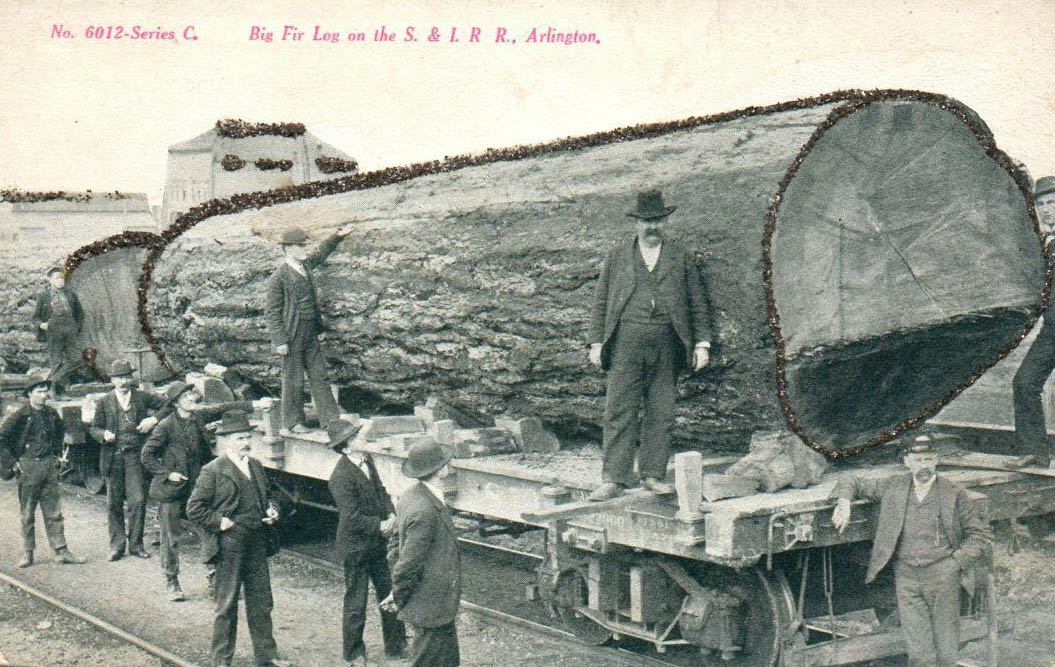 In the first decade of the 20th Century, the railroads were gaining a great deal of power, and they announced a 20%-25% increase in the freight rates for lumber to the East Coast and Central West. This would have a devastating affect on the logging industry and the Puget Sound economy. Chester F. White, a resident of this street, took the initiative to organize lumber owners with properties exceeding $100 million to fight the railroads. With so much of the region's lumber wealth controlled by 14th Avenue East residents, he must have coordinated this effort in part with his neighbors. The group was successful, and the freight increase undone. In all likelihood, other decisions regarding Puget Sound's lumber companies – cooperation and competition both – were hatched on 14th Avenue East.
Neighbors Collaborating on Numerous Important Business and Social Enterprises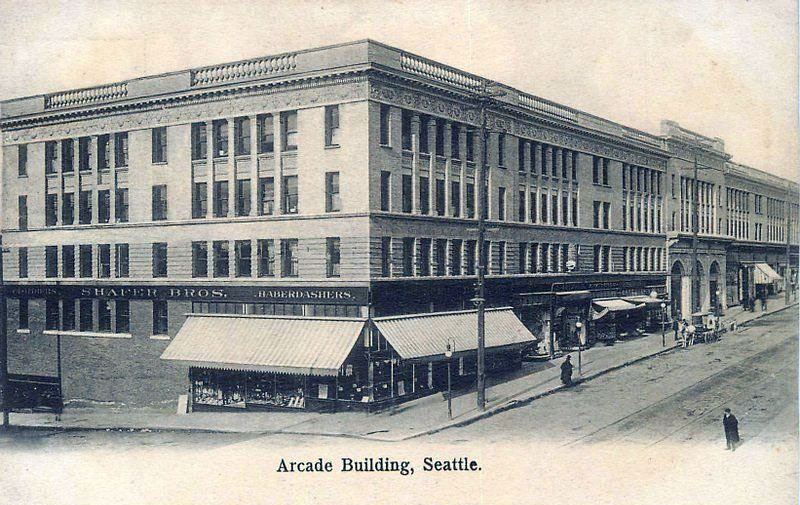 In addition to the formation of the Metropolitan Building Company, which is a special case, neighbors collaborated on other important business ventures– directly affecting Puget Sound's history. In some cases these ventures existed before the partners moved to the street, but their close residential proximity allowed them to make decisions and operate their companies more effectively. In other cases, companies were formed only after future business partners became neighbors. Here are some examples:
Chester F. White was vice-president of the Metropolitan Bank. His direct neighbor, Charles H. Cobb, was a director and stockholder, as was Elbridge A. Stuart.
Andrew Weber and Edward P. Ederer were co-founders of the Weber & Ederer Manufacturing Company, and then the Seattle Net & Twine Manufacturing Company.
David E. Skinner lived next door to his son-in-law, William Edris. Skinner was president of Skinner & Eddy Corporation, while Edris was vice-president.
James A. Moore and Robert A. Tripple both worked at the Moore Investment Company.
David Whitcomb and James A. Moore were executives together at the Arcade Building & Realty Corporation. Later, after Whitcomb became president, Moore took a less active role in that company, but Arcade Building & Realty and the Moore Investment Company worked so closely on the construction of some buildings that contemporary sources differ on whom was the primary builder. As shown in the postcard above, neighbor Julius Shafer had a store in the building (and neighbor George H. Parker's fraudulent wireless company had an office there).
David Whitcomb was an officer in James A. Moore's ill-fated Western Steel Corporation.
In other cases, neighbors worked together to promote civic, business, religious, or social interests: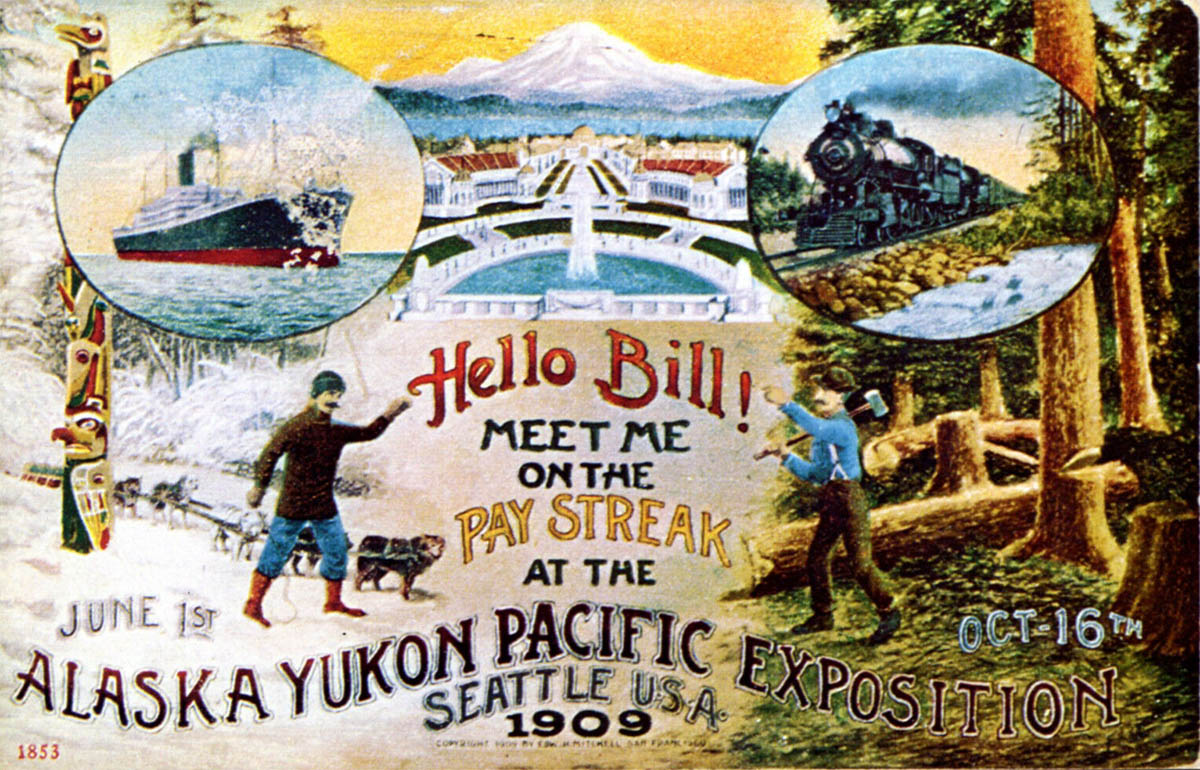 James A. Moore and Chester F. White were trustees together for Seattle's Alaska-Yukon-Pacific exhibition. Although Samuel H. Hedges was as well, this preceded his living on 14th Avenue East. Other neighbors sat on various committees.
Samuel H. Hedges, and David Whitcomb, who lived across the street from one another, both served as presidents of the Seattle Chamber of Commerce. Nathan Eckstein was vice-president of the Seattle Chamber of Commerce, Anson S. Burwell was a trustee, and many residents were members.
David Whitcomb and Alexander Baillie, who both lived on Millionaire's Row at the same time, served as presidents of the Rainier National Park Company.
Samuel H. Hedges, Anson S. Burwell, David Whitcomb, Elbridge A. Stuart, Alexander Baillie, and Charles H. Cobb all volunteered on committees to help Seattle build a "Community Hotel", which became the "New Hotel", and eventually the "Olympic Hotel".
Alexander Baillie was president of the Rainier Club, of which nearly every early resident was a member.
Several residents were active members of the Pilgrim Congregational Church, founded and operated by resident Rev. Dr. Edward Lincoln Smith. Several were members and/or benefactors of Seattle's Temple De Hirsch, which possibly through Nathan Eckstein's doings, ended up owning property on 14th Avenue East. Other residents together participated in different religious institutions. On a smaller, more local scale, the neighborhood helped develop Seattle's religious institutions.
Actions of the individual residents of Millionaire's Row that strongly influenced our history
Actions and roles performed by the residents of Millionaire's Row, individually and by their companies, have had a strong influence on our local and national history. Here are but a few: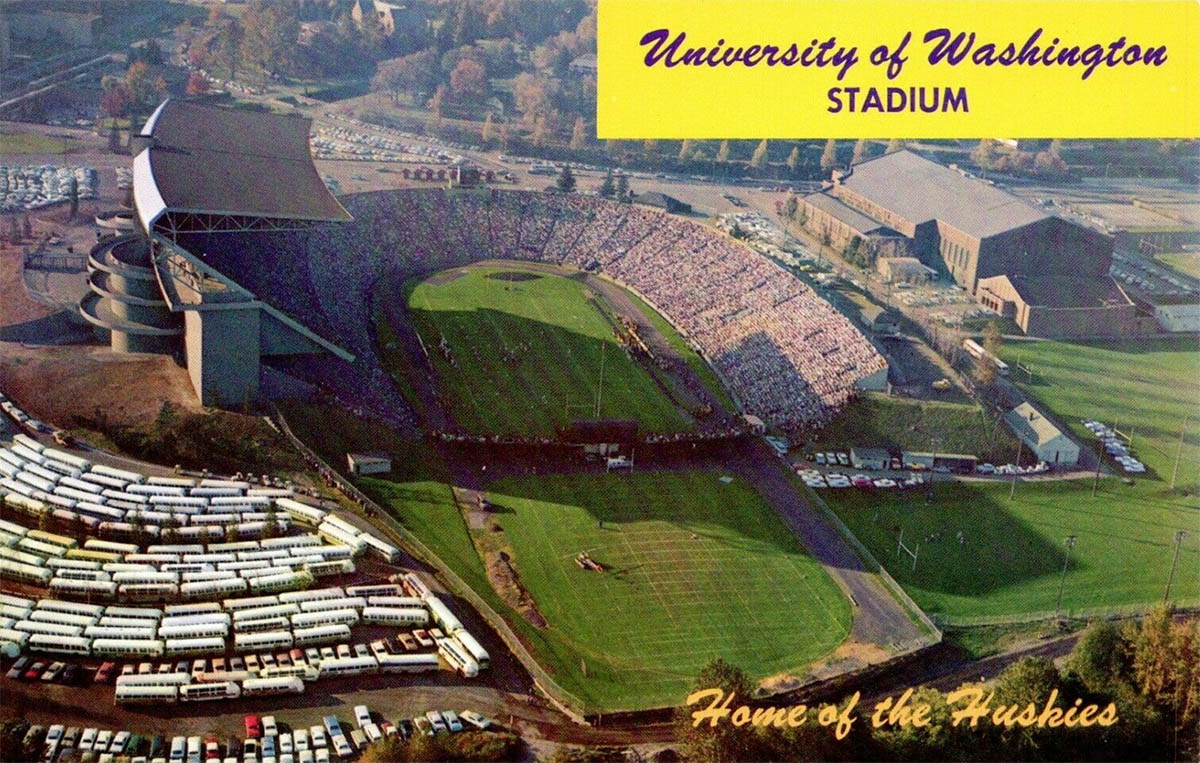 James A. Moore developed numerous residential districts in Seattle, including Latona, University Heights, Brooklyn, and of course, Capitol Hill.
David E. Skinner founded the Skinner & Eddy Corporation (and Shipyard), which produced steel ships at record speed for the U.S. Navy during World War I.
Elbridge A. Stuart founded the Carnation Milk Products Company, which was known internationally, and which was bought by Nestle for $3 Billion.
David Whitcomb served as Fuel Administrator for Washington State, and Executive Secretary for Fuel Administration for the U.S. during World War I.
Samuel H. Hedges' Puget Sound Bridge and Dredging Company created Harbor Island (then the largest man-made island in the world), Husky Stadium, the Dexter Horton Building (then the largest office building in the U.S.), the massive King County Courthouse Building, and constructed numerous ships.
C.J. Erickson's literally reshaped Seattle through his work on the Ship Canal and Denny Regrade.
Nathan Eckstein's civic and charitable contributions to the city earned him recognition as "Seattle's Most Useful Citizen."
The crane manufacturing company that Edward P. Ederer built has since grown in the modern era to produce machines for nuclear plants, hydroelectric plants, NASA, and now ships its products internationally. It also built the mechanism that opens and closes the roof at Seattle's T-Mobile Park.
Cyrus F. Clapp and Robert A. Tripple both served multiple terms in the Washington State Legislature.