725 14th Ave E
David Skinner House
Built: 1903
Home of Another Lumber Tycoon, Who Was Also a Shipyard Tycoon, and Also a Salmon Packing Tycoon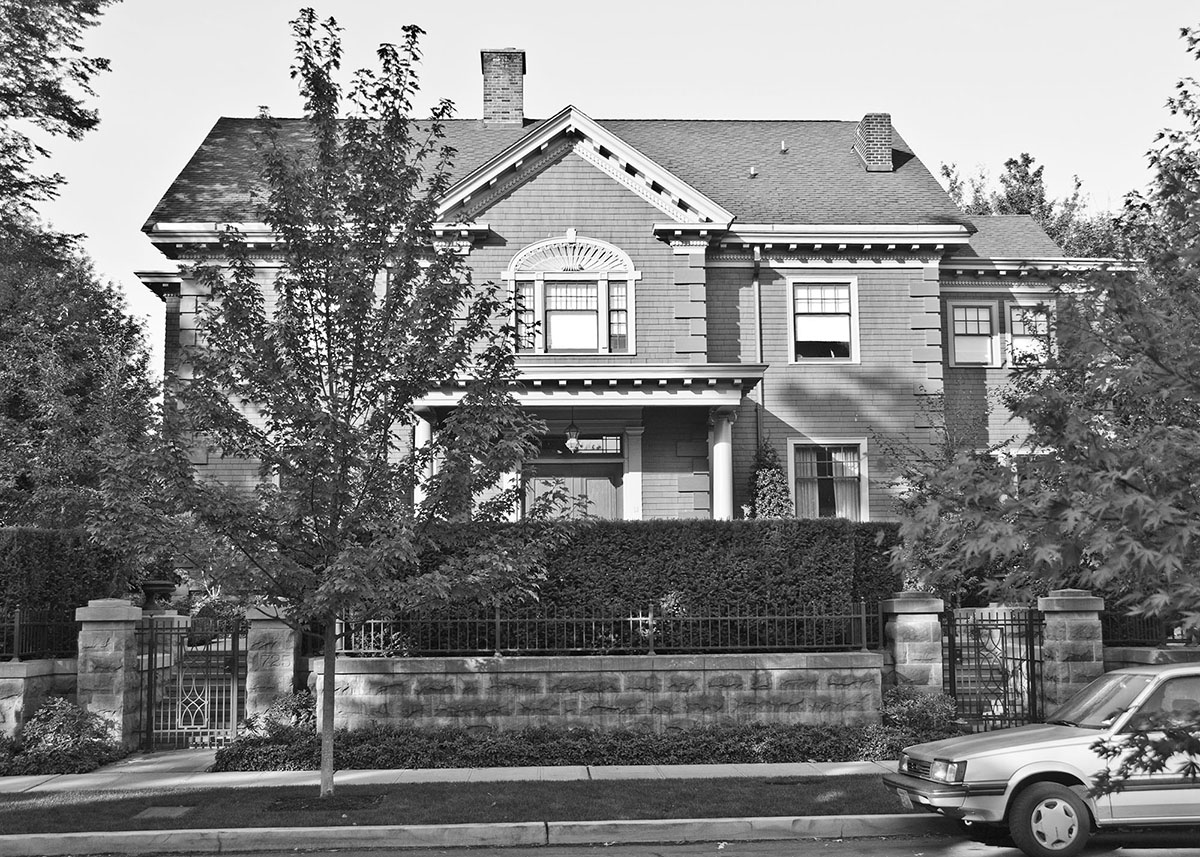 Style: Colonial Revival
Architect: W. W. Sabin
Builder: Otto N. Soderquist
Description
This large 2 ½ story Colonial Revival house was designed by Cleveland architect W.W. Sabin for the Reverend Dr. Edward Lincoln Smith. Its original permit (#20381), dated May 7, 1903, called for a 65'9"x48' house to be constructed by Otto N. Soderquist and supervised by James Stephen, at a cost of $15,000. This formal, stately home has a wood shingle exterior, and a gable roof. A rectangular portico supported by four Ionic columns, protects the main entrance. Above it is an ornate 3-part window with an ornate wood-carved frame, including a wooden fanlight. The front center of the house has a partial pediment. Modillions and smaller dentils (or perhaps dentils of two sizes) embellish the eaves and frieze below the roofline. Quoins run along the vertical edges of the house. The original round portico was replaced by a rectangular one early in the house's history (within the district's period of significance), but otherwise, the house has changed little. Nyberg and Steinbreuck's 1975 survey identified this building as being important to the community. A 1979 Seattle Inventory by Mark L. Peckham of the Department of Urban Conservation called this building a landmark, and gave it an "A" grade both on individual merit and contribution to the district. A recent Seattle Department of Neighborhoods inventory noted that this house is in a potential historic district.
History
The Reverend Dr. Edward Lincoln Smith, pastor of the nearby Pilgrim Congregational Church on Broadway, first owned this house. He was born in 1865 in Montpelier, Vermont, to a gentried East Coast family dating back to the revolutionary war. He attended Yale for both his undergraduate degree and his doctorate at the divinity school. There he organized a group of six congregational home missionaries to travel together to the Northwest in 1890, called the "Yale Band". After working as a pastor in Idaho and Walla Walla, WA, Smith came to Seattle to form the Pilgrim Church and become its first pastor. He authored several books on religion, including a book of sermons. In 1912 he left for New York to become Corresponding Secretary of the American Board of Commissioners for Foreign Missions, though he later would return to become pastor of the Pilgrim Church once again, and last pastor of the Queen Anne Church.
When Reverend Smith left for New York, he sold the house to David E. Skinner. Skinner was noteworthy for becoming a captain of three industries important to the Pacific Northwest: logging, ship-building, and salmon canning. Back in 1897 he had formed a salt company with J.W. Eddy in the Midwest and San Francisco. This earned the two men enough money to expand into logging. In 1901 they invested in the Port Blakely Mill Company. This Puget Sound-based mill was the largest in the world at the time. Skinner became president of Port Blakely Mill and moved to Seattle in 1911.
As World War I broke out, Skinner realized that he could serve his country and make a buck at the same time by building ships. With his long-time business partner, Skinner formed the Skinner and Eddy Corporation in 1916, which set numerous world records building steel ships, far outdoing much more established shipyards on the East Coast. Over 15,000 people worked for his company during the war, and it received over $100 million in contracts. Skinner served as the president of that company.
After the war, David E. Skinner bought a number of Alaskan salmon packing companies, and consolidated them into the Alaska Pacific Salmon Corporation (of which he was chairman). He invested greatly in Alaska fishing and salmon packing businesses, and helped to establish the industry – thereby furthering Alaska's development.
Like so many of the street's residents, David E. Skinner also was associated with the Metropolitan Building Company, serving as its president for a time.